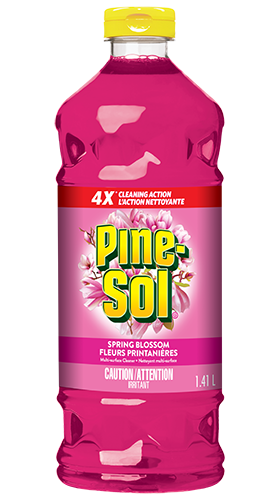 Pine-Sol®Spring Blossom
Powerfully cleans
Deodorizes and has a clean, fresh scent
Cuts through tough grease, grime & dirt
4X CLEANING ACTION®
Pine-Sol® Multi-Surface Cleaner, Spring Blossom™, helps you keep your entire house clean with a fresh floral scent. This multi-surface cleaner cuts through the toughest stains, grease and grime. Use Pine-Sol® Multi-Surface Cleaner to keep your entire home, from the kitchen to the bathroom to the garage, sparkling and smelling clean. That's the power of Pine-Sol®.

DIRECTIONS FOR USE
General Cleaning and Deodorizing:
Use 125mL per 8L of water. No rinsing required except on rubber or asphalt tile. For tough jobs, use full strength and rinse immediately. For no-wax floors, only use diluted and rinse.*
Toilet Bowls:
Pour 250mL in the bowl and brush thoroughly, including under the rim.
*Do not use on marble, aluminum, or wood that is unfinished, unsealed, unpainted, waxed, oiled or worn
RESOURCES
See What's Inside: Read the ingredients list »